Overview
Prysm is a game UI middleware. It's powered by the libraries Cohtml (HTML engine) and Renoir (rendering engine). Cohtml is the main component and is responsible for handling the UI's layout and logic. When done, Cohtml sends commands to Renoir for drawing all of the UI's elements. Keep this in mind while reading this documentation.

The Cohtml library was born from our experience with Coherent Browser and Coherent GT - both leading solutions for UI on desktop and consoles. We found that to support the performance requirements of consoles and mobile devices we had to completely re-think the way we do UI. Cohtml was created from the ground up with games and real-time applications in mind and is based on completely proprietary technology. The runtime can be embedded in any application on the supported platforms.

Prysm allows content creators to work freely in their favorite tools - Adobe CC. Prysm's plugin for Adobe Animate CC generates everything necessary to create UI for desktop, console and mobile applications.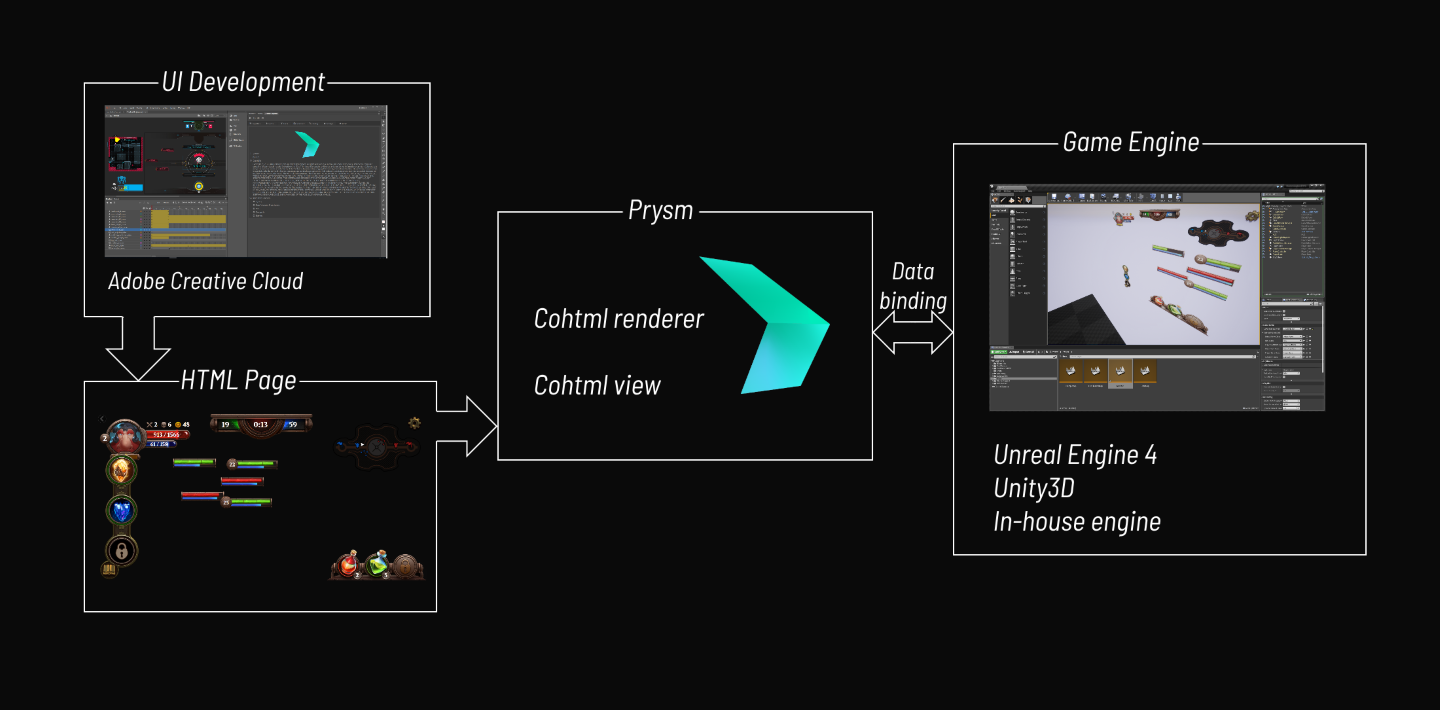 Major Features
Designer-friendly. The complete user interface can be done by designers in a visual way, including animations and interactions.

Automatic scaling and layout. Prysm's plugin for Adobe Animate will automatically make your UI look great on any resolution and aspect ratio.
Vector-based assets allow adaptable resolution without sacrificing quality. SVG support.

Advanced visual effects - shadows, masking clipping, 9-slice, filters, blend modes, 2D and 3D transformations, particle effects through transparent videos, etc.

High-performance. Prysm was created from the ground up with games and real-time applications in mind.

Scalable. Prysm makes use of multiple cores on the client device.

Easy interaction with the gameplay code

Integrated Profiler.

Whitebox. Ability to control as much as possible of Prysm's subsystems - rendering, task system, logging, memory allocations, resource loading.

Support for multiple image formats - DDS, TGA, JPEG, PSD, BMP, PNG, ASTC, PKM, KTX